Kia Ora, Kia Orana, Malo e lelei, Talofa lava, Fakalofa lahi atu, Greetings
In-Zone Enrolment
Bairds Mainfreight Primary School operates an enrolment scheme (school zone). All children who live within the home zone operated by this scheme are guaranteed a place at Bairds Mainfreight Primary School. Please refer to the map of the zone below. Evidence of the in-zone address will be required as part of enrolment. Enrolment forms for in-zone students can be obtained here on our website and from our school office.
Parents of students turning five, who live in our home zone and intend enrolling their child at any time during 2024, should notify Kim Benjamin ( kimbenjamin@bmps.school.nz ) as soon as possible to assist the school to plan appropriately for 2024.
You can download our enrolment form, a map of our school zone, and a copy of our school enrolment scheme from the section below. Alternatively, you can pick up an enrolment pack from BMPS office.
We look forward to receiving your child's/children's enrolment.
Online Enrolment
Out-of-Zone Enrolments
Out-of-zone applications for enrolment are considered through a ballot system, and are subject to available places in suitable classes. For more information about this process please refer to the Ministry website. Alternatively, please contact BMPS and we will be happy to assist you.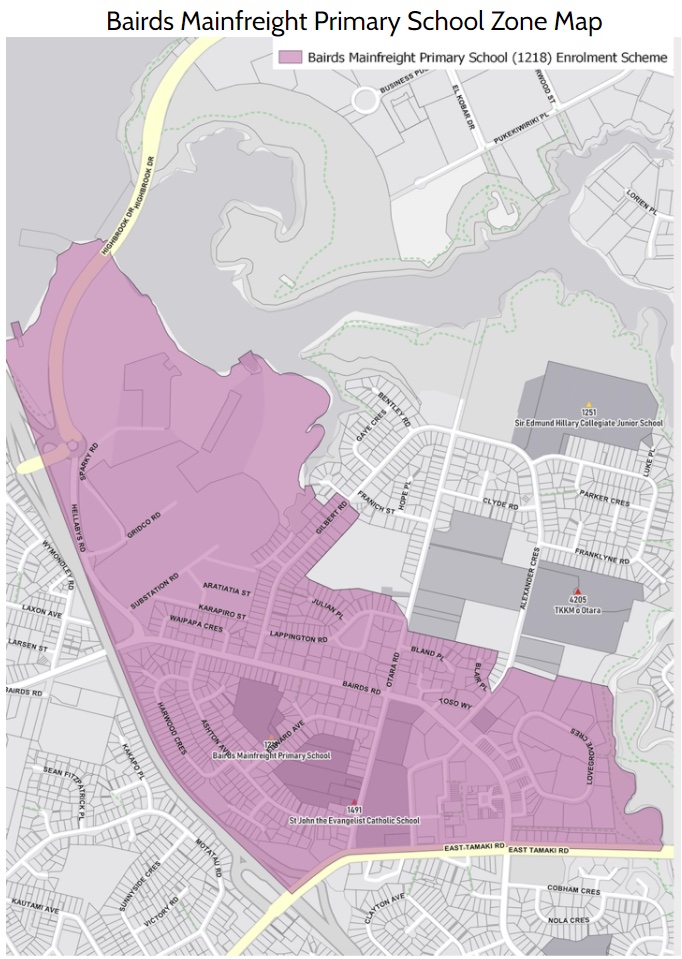 All children in Years 1-6 who live within the home zone described below and/or shown on the attached map are entitled to enrol at Bairds Mainfreight Primary School.
The Home Zone is bounded by the following:
All residential addresses on boundary roads are included unless otherwise stated.
Starting at the south eastern corner of the intersection of East Tamaki Road and 168 East Tamaki Road (included) travel west along East Tamaki Road until meeting the Southern Motorway (State Highway 1).
Travel North towards Highbrook Drive / Otara Creek Bridge and then travel east following the coastline towards Gilbert Road ( only including even addresses 66 and below and odd addresses 53C and below).
Travel east, including all of Julian Place and Lappington Road until you meet the intersection of Otara Road (even addresses 48 and below only) and Bland Place (included).
Continue travelling east towards Blair Place (included) and Alexander Crescent (75 and 92 and above included).
Travel east incorporating Lovegrove Crescent then following the coastline of Otara Creek Reserve and returning to the starting point.